Top 15 Question and Answer Website List for SEO Backlinks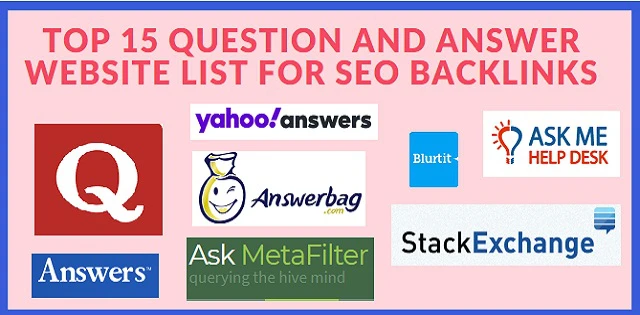 Question and answer websites are the best way to get referral traffic. You must create accounts on high domain authority Q & A websites for your respective category and start asking your own questions and answering questions from others. High DA Question and answer websites are a great source of getting link juice, for example, Quora, Answers.com, Yahoo Answers, Rediff, Stack Exchange, and many more similar websites. These best question and answer sites have a lot of potential to generate traffic if you setup your account properly.
After creating an account on these websites, you should choose your niche to build a good profile. If you have a good profile in your category you will definitely have high followers which will give you a good attraction for your posts.
Generally, users violate Q&A websites' terms and conditions by spamming them with excessive links and keywords. It is a big NO, never spam these websites to avoid getting permanently blocked by them. We observed that many users start creating links in the beginning but, we should always add links once we build high authority on that website. Many websites like Quora block those kinds of users permanently so use these websites ethically work to get life long benefits.
Top categories in Question and answer website are Education, Technology, Science, Lifestyle, Health, Food, Sports, Business, Entertainment, Hollywood and Bollywood. Choose your respective category and start asking questions and answering other related questions as per your expertise.
We have created a list of top 15 question and answer websites on the basis of their domain authority and page authority. We have also added a short summary for each website along with the guidelines to be followed.
| | | |
| --- | --- | --- |
| Q&A Website Domain Name | Domain Authority | Page Authority |
| https://www.quora.com/ | 93 | 76 |
| https://www.answers.com/ | 92 | 67 |
| https://answers.yahoo.com/ | 92 | 72 |
| http://www.rediff.com/qna/ | 91 | 58 |
| https://stackexchange.com/ | 89 | 68 |
| https://ask.metafilter.com/ | 78 | 60 |
| http://www.answerbag.com/ | 65 | 58 |
| https://www.girlsaskguys.com/ | 63 | 55 |
| https://www.blurtit.com/ | 63 | 58 |
| https://www.askmehelpdesk.com/ | 61 | 56 |
| https://mathoverflow.net/ | 56 | 54 |
| https://www.theanswerbank.co.uk/ | 52 | 51 |
| https://www.funadvice.com/ | 51 | 54 |
| https://www.fluther.com/ | 49 | 51 |
| https://www.askdeb.com/ | 44 | 49 |