How to Open an Etsy Shop Successfully in 2023 – 8 Easy Steps to Follow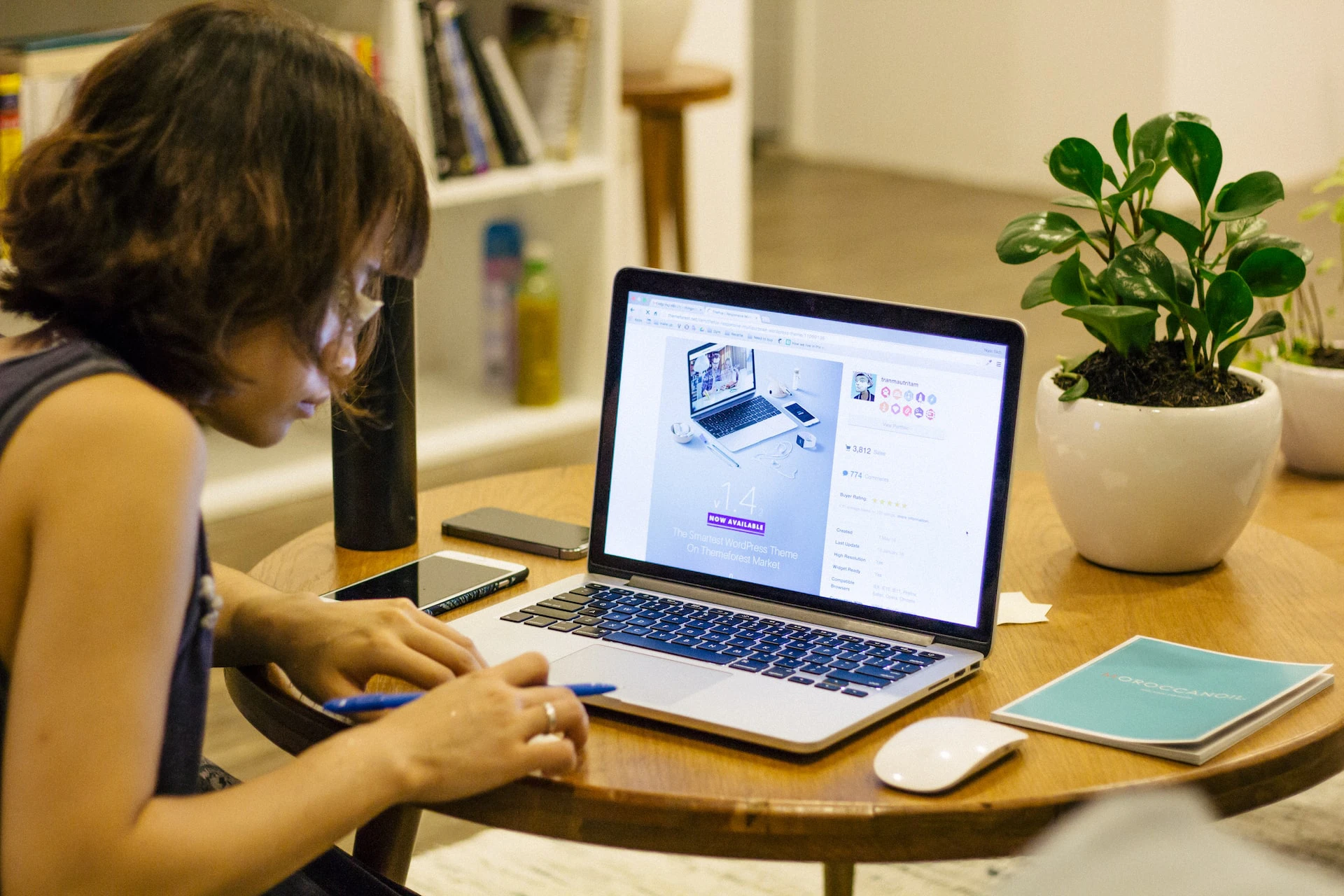 Are you a creative person with a passion for handmade items or vintage finds? Do you want to turn your hobby into a business? If so, you might want to consider selling your products on Etsy.
As someone who has been selling on Etsy for a few years now, I know how daunting it can be to start with Etsy. However, with the right approach, you can quickly become a successful seller on this popular online marketplace.
In this step-by-step guide, I'll share my tips and tricks on how to open an Etsy shop and set selling your products for success.
How to Open an Etsy Shop Successfully: A Step-by-Step Guide
Etsy is an online marketplace where artists, crafters, and vintage collectors can sell their unique and one-of-a-kind items. Let's go through the step-by-step process of starting an Etsy shop.
Step 0: Registering an Etsy Account
The first step in opening an Etsy shop is to create an account. You can do this by going to the Etsy website and clicking on the "Register" button. You will need to provide your email address, username, and password.
Once you have registered, you can personalize your account by adding your profile picture and other details. Having a complete profile can help you connect with potential customers and build trust with them.
Step 1: Opening Your Etsy Shop
Once you have an Etsy account, you can create a shop. Having a shop is important because it provides a platform for you to showcase your products and interact with customers.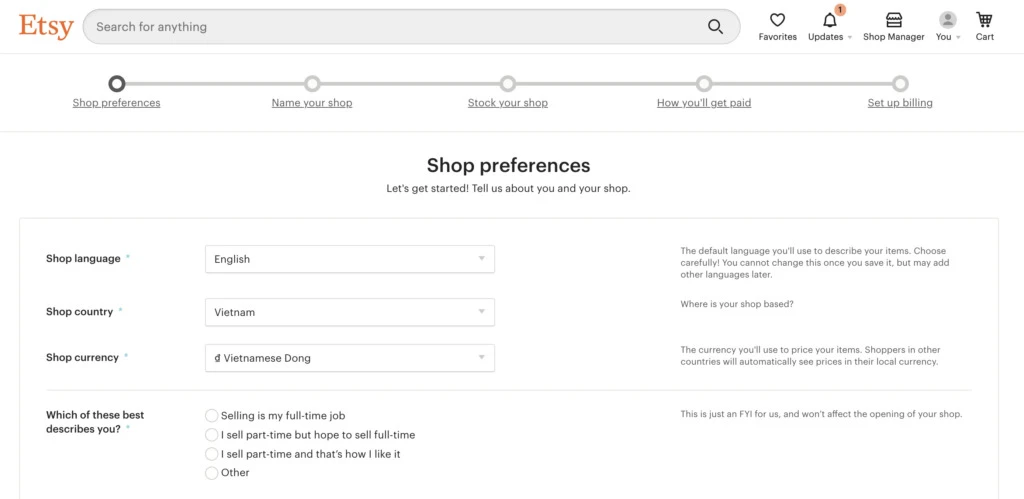 Setup Your Shop
To set up a shop, go to your Etsy account and click on the "Sell on Etsy" button. You will need to choose a name for your shop and write a shop announcement that tells customers what you offer.
Make sure to choose a name that is easy to remember and relevant to your products.
Create Shop Policies
When setting up your shop, you will also need to create shop policies. Shop policies are a set of guidelines that outline how you conduct business on Etsy.
Some important policies to consider include your shipping and return policies, payment methods, and how you handle custom orders.
By having clear and concise policies, you can help build trust with your customers and avoid any misunderstandings or disputes.
Step 2: Understanding SEO and Using Keywords
SEO (Search Engine Optimization) is essential to getting your products seen on Etsy. You want your products to appear at the top of search results when someone is looking for something you offer.
To do this, you need to use relevant keywords in your product titles, tags, and descriptions. When choosing your keywords, think about what someone might search for when looking for your product.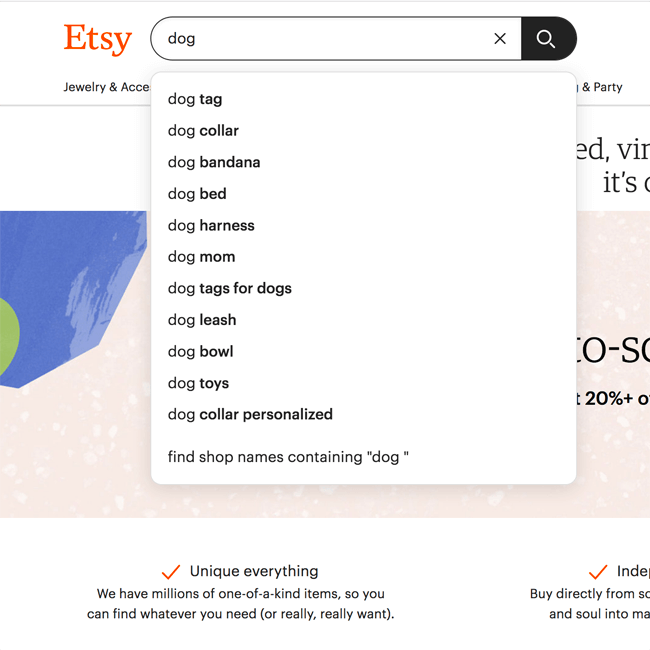 For example, if you sell handmade soaps, you might use keywords like "natural soap," "handmade soap," or "organic soap." Be sure to use long-tail keywords as well, which are longer phrases that people might search for, such as "vegan lavender soap" or "cruelty-free soap."
Step 3: Creating Effective Product Listings
Your product listings are the heart of your Etsy shop, and it's crucial to get them right. When creating listings, make sure to provide accurate and detailed descriptions of your products.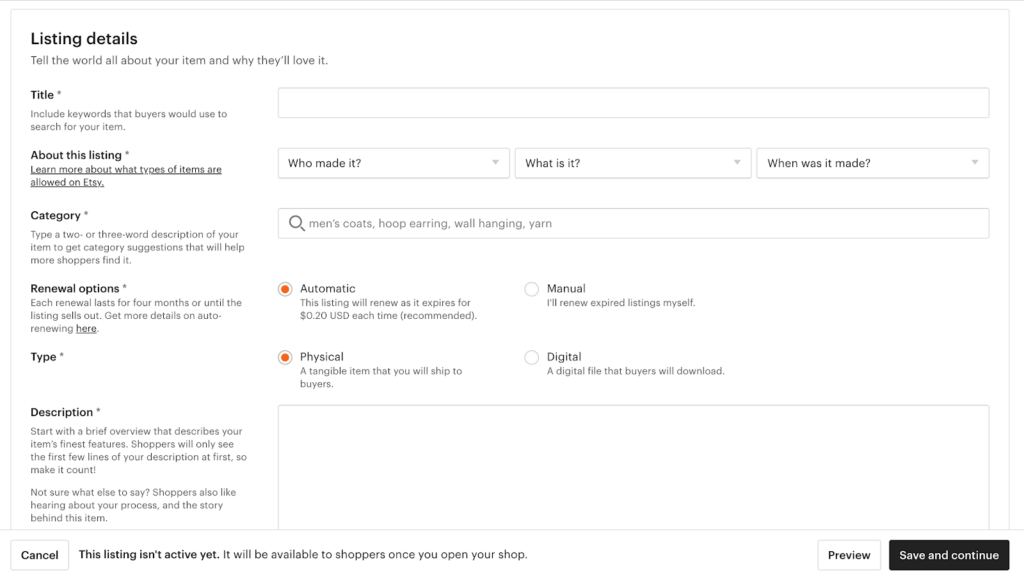 You want to create listings that are informative, visually appealing, and optimized for search. This can help customers understand what they are buying and build trust with your brand.
Here are some tips to keep in mind when creating your product listings:
Use high-quality photos that show your product from different angles and in use.
Write a detailed description that includes relevant keywords and highlights the features and benefits of your product.
Set a competitive price that reflects the value of your product and the market demand.
Use relevant tags that accurately describe your product and use long-tail keywords where possible.
Using the right keywords and tags can help your listings appear in relevant search results and attract more customers.
When choosing keywords and tags, think about the words or phrases that potential customers might use to search for your product. You can also use tools like the Etsy Search Analytics tool to see which search terms are popular and adjust your tags accordingly.
Step 4: Promote Your Etsy Shop
Promoting your Etsy shop is essential to getting your products seen by potential customers. Promote your shop is by running promotions and sales.
You can offer discounts to first-time customers or create a loyalty program for repeat customers. Be creative and think of ways to incentivize people to buy from your shop.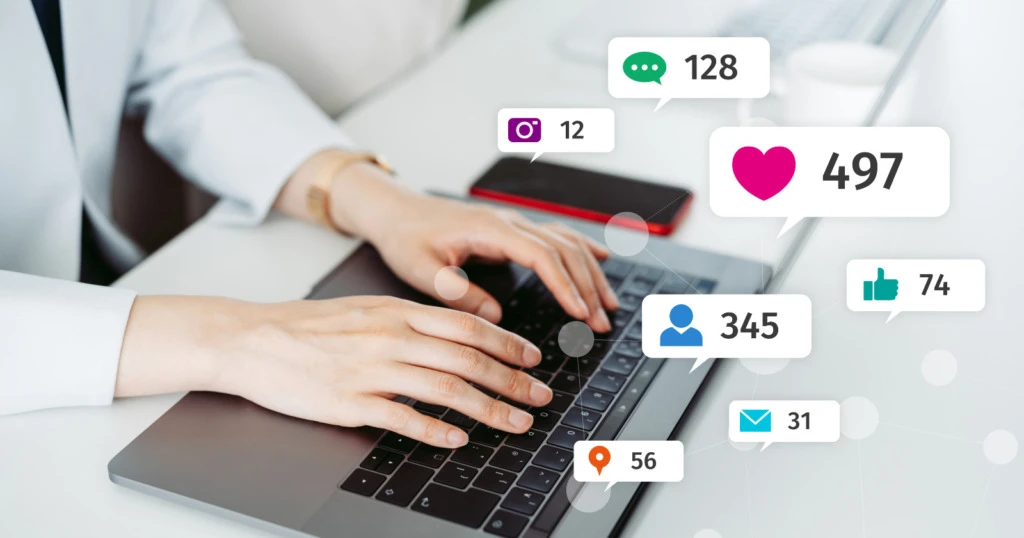 You should also use social media platforms like Instagram, Facebook, and Pinterest to showcase your products. This will help you reach a wider audience and drive more traffic to your Etsy shop.
Use your social media accounts to share product photos, behind-the-scenes shots, and promotions that you offer in your Etsy shop. Make sure to post regularly and engage with your followers to build a community around your brand.
Here are a few tips to help you promote your Etsy shop on social media:
Choose the social media platforms that are most relevant to your target audience.
Create high-quality content that's visually appealing and relevant to your products.
Use relevant hashtags to make your posts discoverable.
Engage with your followers by responding to their comments and messages.
Paid Advertising
Etsy also offers paid advertising options that can help promote your shop to a wider audience. You can choose from different advertising options, including promoted listings and Google Shopping ads.
It's important to monitor the performance of your ads and adjust your strategy as needed to ensure you're getting the most out of your advertising budget.
Collaborations and Partnerships
Collaborating with other artists, bloggers, or influencers can help expand your reach and attract new customers to your shop. Look for opportunities to collaborate with others in your niche and share each other's products or services with your audiences.
Step 5: Analyze Your Shop Performance with Etsy Analytics
Etsy provides a powerful analytics tool that can help you track your shop performance, including traffic, sales, and customer behavior.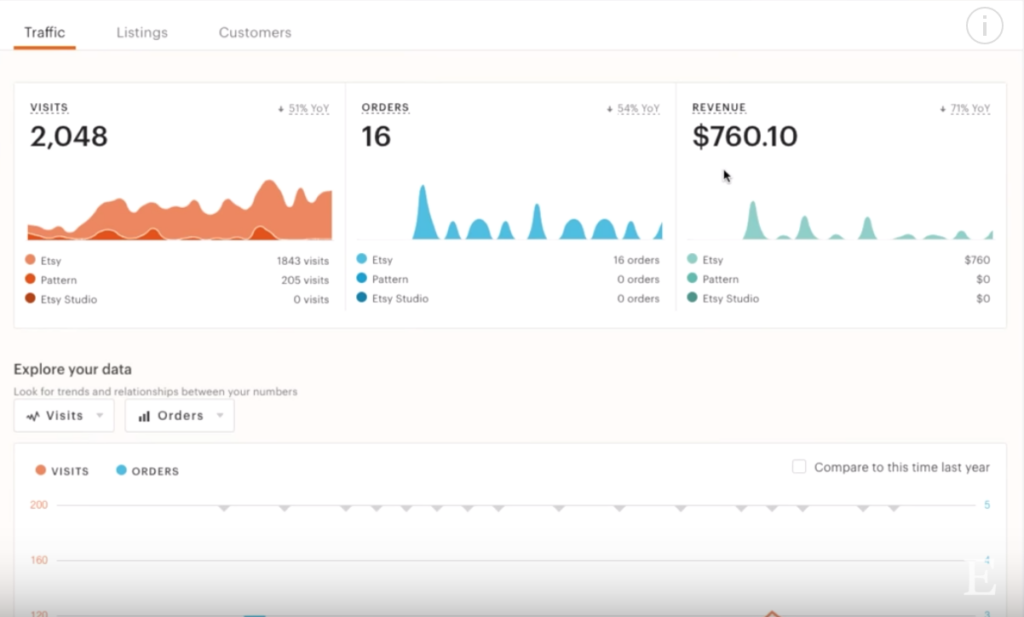 You can use this data to make informed decisions about your shop, such as which products to promote, which listings to optimize, and which keywords to target.
Here are a few things you can do with Etsy Analytics:
Monitor your shop's performance with the dashboard, which provides an overview of your traffic and sales.
Track individual listings to see how they're performing in search results.
Use the Search Terms report to identify the keywords that shoppers are using to find your products.
Analyze customer behavior to identify patterns and trends in their shopping habits.
Step 6: Provide Excellent Customer Service
Providing excellent customer service is essential to building a successful Etsy shop.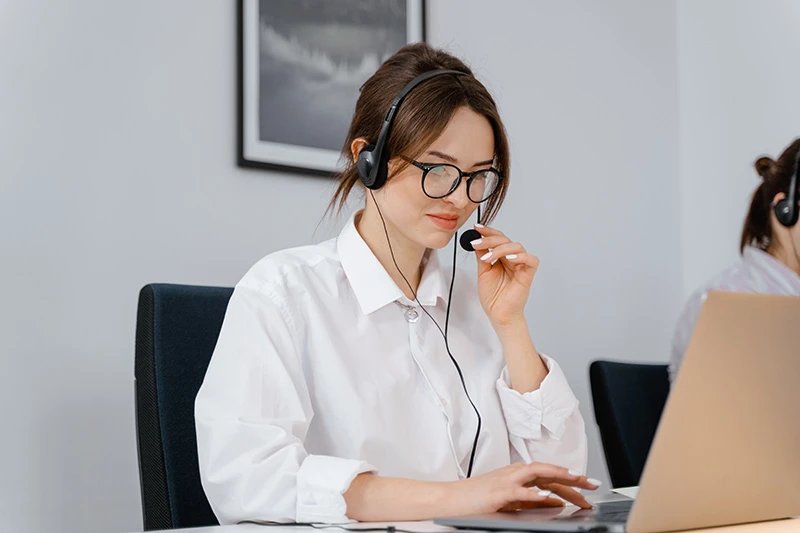 Happy customers are more likely to leave positive reviews and recommend your shop to others. Here are a few tips to help you provide excellent customer service:
Respond promptly to customer inquiries and messages.
Ship your orders quickly and provide tracking information.
Offer clear and concise return and exchange policies.
Encourage customers to leave feedback and respond to their reviews.
Step 7: Ship Your Orders and Manage Returns
Once you start making sales, it's time to ship your orders and manage returns.
Etsy provides tools to help you streamline this process, such as shipping labels and return labels. Make sure to use high-quality shipping materials to protect your products during transit.
Here are a few things to keep in mind when shipping your orders:
Use the correct shipping method for your products and customers.
Provide tracking information to your customers.
Communicate any delays or issues with your customers.
Manage returns and exchanges promptly and professionally.
Step 8: Monitor Your Feedback and Reviews
Feedback and reviews are an important part of building a successful Etsy shop.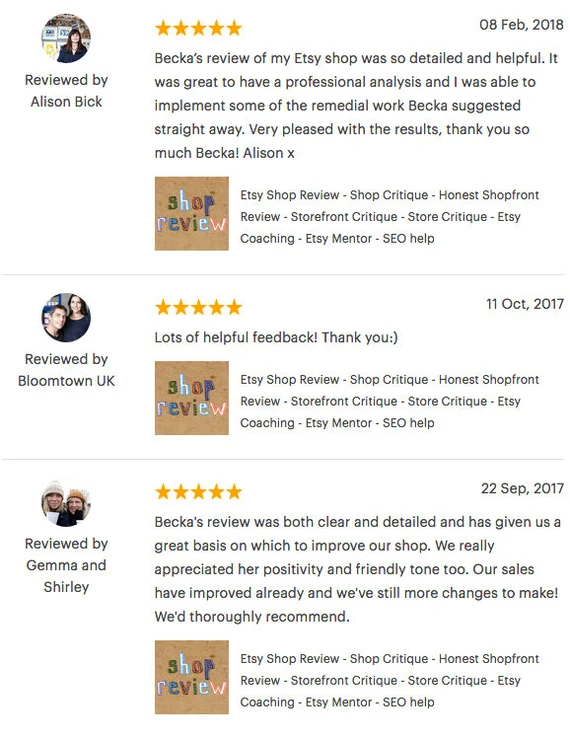 They provide social proof of the quality of your products and customer service. Make sure to monitor your feedback and reviews regularly and respond to any issues or concerns raised by customers.
Here are a few things to keep in mind when monitoring your feedback and reviews:
Respond promptly and professionally to any negative feedback or reviews.
Use feedback and reviews to improve your products and customer service.
Encourage customers to leave feedback and reviews.
Thank customers for positive feedback and reviews.
Conclusion
Opening an Etsy shop can be a rewarding and profitable venture if done correctly. By following these eight steps, you can set yourself up for success in this online marketplace.
Remember to focus on creating high-quality products, optimizing your listings for search, and providing excellent customer service. With time and effort, you can build a successful Etsy shop and turn your passion into a thriving business.